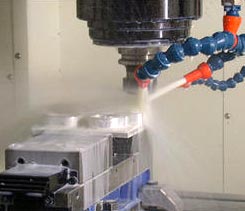 The water-soluble cutting oils are even called cutting fluids, soluble oils and cutting oils. These are not soluble in water, so the term can be inappropriate, but it also forms a type of emulsion when it is added in water. By adding water in oil helps to prevent rust formation, also carries away all the heat and also helps in preventing fungus and bacteria build-up.
The water-soluble cutting oils are a new invention and also they are very effective. Instead of dissolving in water it uses the water as it's the agent for forming a type of emulsion on the metal surface. This way there is no accumulation of rust on any metal surface.
The water-soluble cutting oils have properties of water cooling and lubricating properties of oils, all these qualities have ended up making the cutting oils a really popular and effective way to prevent rusting and corrosion.
Metals which stay immersed underwater, on those metals these cutting oils work wonders. It helps in preventing rusting and corrosion.
Uses of Water Soluble Cutting Oils-
These types of oils are made out of base mineral oils which allow them to nicely mix with the water and crest an emulsion which is stable. An emulsion that looks like milky white in colour is formed. These are used in their diluted forms, also they are great inhibitors of corrosion, and they are even used for controlling foul smell.
These cutting oils are used for machining operations and grinding too. Mostly now these oils are used because of them being popular.
They have great lubricating properties of oil along with the cooling qualities of water.
Points Which One Must Keep In Mind about Water Soluble Cutting Oils-
• The water presence makes the water-soluble cutting oils even more prone to the growth of bacteria, rust, and even loss because of evaporation which increases the cost of maintenance.
• There is hard water which reacts with soap, leads to producing scum. It even reacts with the cutting fluids for breaking down all the emulsion. Therefore, before you prepare the emulsion, the usage of soft water is recommended.
• It is very important that you measure the concentration after the mixing. This procedure can be done by sending one small sample in any test facility or by using any refractometer.
• Due to the increase in the growth of contamination and bacteria with the tramp oil, there is the degradation of the cutting oil with the coolant system.
• Because of the higher content of oil in the cutting oils, it is very difficult to clean it off the machine surface.
• There are many cutting oil manufacturers who give various suggestions on how to maintain and take care of the coolant. But one way which works for a plant might not work for the other.
• These water-soluble cutting oils are free of any chlorine and also they are biostable making them perfect for usage in the automotive industry.
• The cutting fluids which are made with great lubrication additives can be extensively used in machining and other many metal varieties.
Therefore, if you are searching for a water-soluble cutting oil supplier in India, make sure the supplier is trusted and sells premium quality products for the clients. There are many glasses of water-soluble cutting oil suppliers in India who can provide you great products at competitive prices.